YHA ANAKIWA LODGE

Queen Charlotte Sound

Marlborough Sounds

New Zealand

True old fashioned kiwi hospitality

at its best!
Stay in Picton and then rent your kayak? or stay with us and paddle for free!
New! - Snoose & Cruise for Free Package - Check it out in SPECIALS!!
New! - Winter Escape Package with a free competition! - Check it out in SPECIALS!!
Welcome!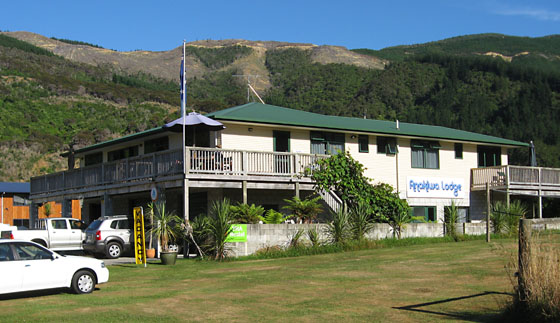 We are Marlborough's first and only five star boutique budget accommodation lodge,
only 30 mins scenic drive from Picton ferry.
Opened in 2007, we guarantee our modern family run lodge will be a top class experience, one of the best as you travel through New Zealand..
Our secluded peaceful environment is only 70m from the waterfront. We are pleasantly isolated from the camper traffic and student noise at Outward Bound and the wharf.
Yet the popular Queen Charlotte Track is just 2 min's walk away - what's stopping you?
Want to walk or bike the Queen Charlotte track? Our track information page will get you underway.
For transport to or from Anakiwa? See our location page
Locally we have access to some excellent bush walks, mountain biking, boat cruises, swimming, watersking and kayaking with a wide range of marine life and native birds. End the day with a glass of wine from some of our premium Marlborough vineyards.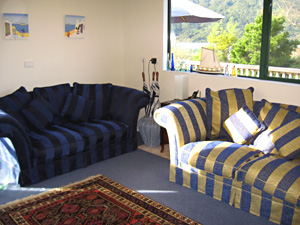 As your kiwi hosts, we have stayed in a variety of budget accommodation around the world. Some were great, some ....well not so much.
We show our guests that when you want economical accommodation in Picton and the "Top of the South", there is no need to rough it in a scruffy old noisy backpackers - we have upped the standard!
Independent travellers, small group bookings, families, all are welcome
Our rooms:
We have a 4 bed multishare dorm room or a range of quality double private rooms, some with ensuites and large outdoor decks to relax in the sun.

Our rooms are modern, spacious and all beds are quality innerspring, fully made up with linen & duvets, plus towels supplied. Sparkly clean bathrooms complete with soap, shampoo, hair driers and heated towel rails.

We look forward to sharing our beautiful sounds environment with you, for a wonderful holiday.
Our ratings and reviews:
Our guests have a great stay....... In our Picton area, we are consistently the top rated Hostel

on Check out our latest reviews on Tripadvisor
Our facilities quick list:
Free use of our single perception kayaks

Complimentary Coffee or Tea all day

Extensive DVD library and Satellite TV

Laundry, clothes wash & drying facilities

Quality innerspring beds, duvets, towels and individual reading lights

Fully equipped kitchen and barbeque courtyard

Luxury hot spa pool available

A separate movie lounge with books, games and large LCD home theatre system

Boat transfers and cruises upon request
Shuttle transfers to Picton or Havelock

* The free single kayaks (2) are subject to availability at the time of your booking.

See more of what we offer in our facilities gallery
A sample from the guest book:
Loved the movie nights, hot spa, comfortable beds, calm atmosphere and wonderful hosts. Such an incredible stay - enjoyed every second - Thank You! ........Maria and Jessica, Norway and Sweden
Best accommodation in NZ so far, perfect friendly service. We'll be back........ Jung Family, Denmark
Thank you for a welcome rest after the Queen Charlotte walk. Lovely, clean & friendly...... Sarah & David, Fulham London
Beautiful place, accommodation, nature etc. Best we have had after 3 weeks of travel in NZ...... .Judith & Cees, The Netherlands
Arrived for a week - stayed for a month! A very relaxing stay. Your long term guests......... Angelika & Gerd , Germany
Group Bookings - exclusive use
We regularly rent out the entire accomodation wing at the lodge for smaller family groups, special occasions, tour groups and corporate team building. We are always happy to provide a quick quote on any requirement.
Anakiwa Lodge is privately owned, family run accommodation with a relaxed atmosphere - we look forward to your stay with us.

Your hosts Debby & Darrell, Niall & "Rocky" will welcome you at reception