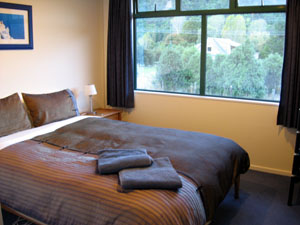 Double room with ensuite
"Our popular midrange ensuite room"
Quality Queen size slat bed as standard.
A nice modern sunny room with ensuite bathroom, heated towel rail, heat lamps, toiletries & wardrobe. Inroom DVD player for movie library, Hot spa included
Room size (sq meters) 15
$ 116.00 per night for 2 or single
Double or Twin room
"A luxury hot spa and great sleep on a budget"
A large modern room, Queen size bed, Hot spa included
Semi - ensuite as the shared bathroom is adjacent
Room size (sq meters) 13 excluding bathroom
$ 90.00 per night for double or $ 100.00 per night for twin
Family room
"Great private space for the family stay "
Queen size bed, plus 1/2 singles
A very large sunny room with its own deck and rural views.
The bathroom is a short walk down exterior stairs (not adjacent or ensuite).
In room DVD player for movie library, Hot spa included
Room size (sq meters) 25 excluding bathroom
$ 132.00 per night family (4), 2 Adults, 2 children
$ 150.00 per night, 4 adults